Profile picture
For your profile picture, you'll be given a default one set up by our platform. However, we'd strongly suggest personalizing this into something with greenery & sunlight, perhaps with a smile, as this is something welcoming & comforting for your potential students to get to know you through.
Personal details
Once you're logged in, you'll first be able to make edits to your personal details.
Let's talk about some of the unique information to be added here:
Hourly fee (PKR): This is how much your per-hour rate would be. So if you would place it at PKR 3000, a 30-minute meeting would be for PKR 1500.
Your tagline: Just a short quote on your view of education or counseling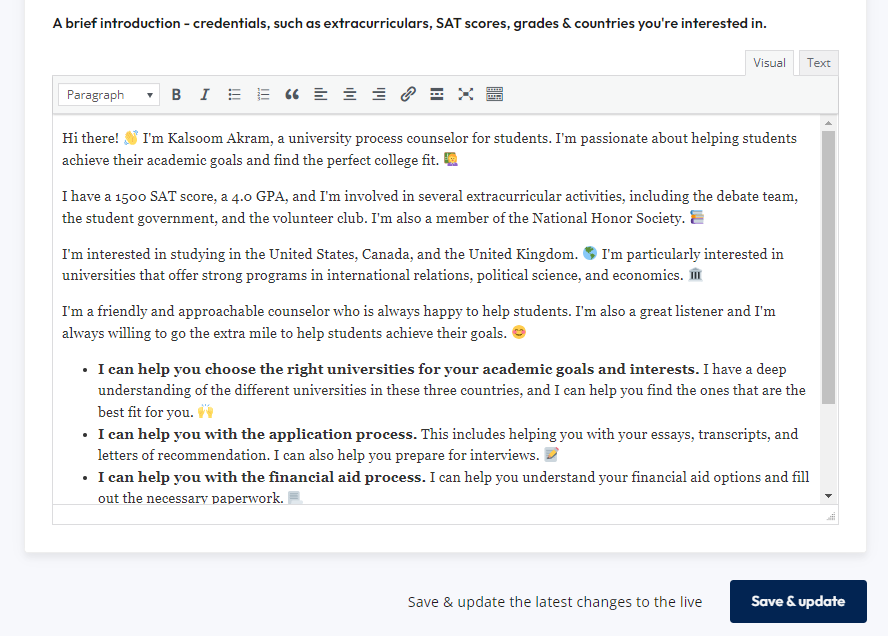 3. A brief introduction: This is the part where you get to talk personally with the student – make sure to use it well. You want to tell the student how you can help them. Whether that's in essay guidance, application assistance, or choosing the right universities – remember to mention it!
Viewing your profile
And, of course, if you'd like to see how all of this looks on your profile, you can use the "View profile" button, which would be visible when you click your account image in the Header.
Additional notes
From the Additional Notes section, only your Google Drive link will be visible on your profile, but you can choose to skip this if you don't want to show it. The rest of your details will be kept confidential.
Education
Within this section, you can add in your education markers to show what your background was like – whether it was in FSc, A-Level & what you studied. This will allow students to relate with your profile & decide if your specialities suit their needs.
Countries I can help with
This section is where you choose what countries you'd like to counsel for, and what programs. If you have any recommendations on what to add, don't hesitate to contact us at countries@qalamcounseling.com.