Here's what we recommend to get the most out of your meetings.
Profile picture
The picture must be 1000×1000 & not exceed 5MB. You may use a simple website such as Safe Image Kit to achieve this.
Personal details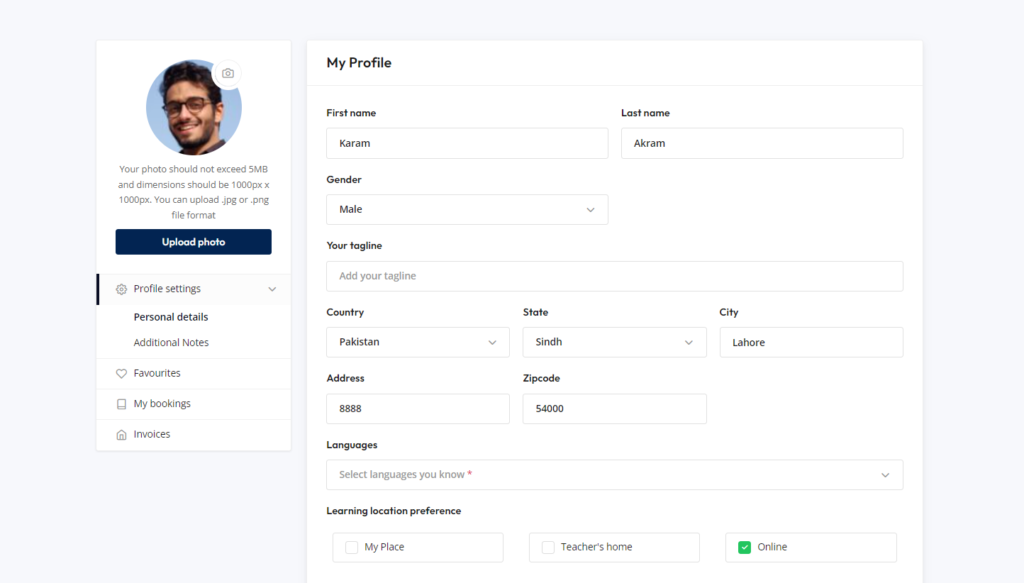 In this section, you will find one of the most important details to edit: your introduction.
Through this section, counselors can see whatever you type in. Although you have complete creative control, here's a format we recommend following:
Name: [Your Name]
Country: Pakistan
Current Education: A2 in the O/A Level stream

O Level Grades
 9 A*s
 2 A's

Extracurricular Activities
 1. President of the Debate Club (example)
 2. Captain of the Volleyball Team (example)
 3. Volunteer at the local animal shelter (example)

Standardized Test Scores
SAT Score: 1550

Countries of Interest:
    * United States (example)
    * Canada (example)
    * United Kingdom (example)
    * Australia (example)

Help Needed
    * Writing personal statement (example)
    * Choosing universities to apply to (example)
    * Preparing for interview process (example)
Additional Notes
Within these details, add your Google Drive link for any documents you want to show the counselor before heading into the meeting.
The counselor can view your profile (which you can see as well – explained below) before talking to you & can guide you according to your needs!
Viewing your profile
Click your profile picture in the header menu. After this, click "View profile" to check out your customized profile!
Favorites
This section will contain all those counselors you're excited to get to know & learn from!
To save a counselor on the list, click the heart icon on their profile banner.